How To Create an Outdoor Cross fit Space
With more of us utilising our outdoor spaces and gardens for additional living spaces, there is no limit to what you can create as a clever solution to extra space, play areas, gyms, yoga studios and even home offices.
There are different types of outdoor space such as covered courtyards, garden rooms, sheds, modular units and sheltered platforms for dedicated exercise.  This is where Crossfit comes in.
To get the most out of Outdoor Cross fit there needs to be a few important elements in place so that you can enjoy working out safely and without the concern of premature damage to your equipment or adverse weather affecting your accessibility.
How do I Make My Outdoor Cross fit Gym Work?
Here we look at the main factors to consider when designing and maintaining an Outdoor Crossfit gym.
Space
Crossfit can involve several pieces of equipment varying from jump ropes, battle ropes and weights to power racks, sleds and spin bikes.  To ensure you have adequate space to include your favourite workout kit you need to think about how things will be positioned.  Consider how big your existing space is and how much equipment you want to include at the design stage.  Crossfit gyms do not need to be huge, but you want to prioritise the equipment you like using.
Shelter
Weather plays a big part in an outdoor gym space.  Even in hot, summer months you do not want direct sunlight affecting your performance.  If you are creating a gym within a covered space such as a Garden room or modular building, you will already have suitable shelter, however consider temperatures, insulation (for cooler days), fans and shades.
For more open gyms, it is a good idea to incorporate some type of temporary cover.  There are loads of materials and options on the market from waterproof canopy's to PVC awnings that will allow you to use your gym despite rain or extreme sunlight.
Suitable Protective Flooring
Most Crossfit activity is high impact and involving weights.  To protect your body from injury or repetitive strain, it is essential that you have a high density shock absorbent surface in place.  Likewise, you need to protect the subfloor/concrete from damage.
Consider Anti-Shock gym tiles which have inbuilt drainage for outdoor use.  From a 40mm thickness to 60mm, these tiles will cushion falls and absorb impact and noise from equipment and weight dropping.  Most importantly, these gym mats will remain stable (without adhesive) as they butt together due to their weight and retain their position.
Alternatively, choose an Outdoor Rubber Tile which is multi-use and can be used for fitness, kids play and patio areas.  The 40mm thickness and self-drainage delivers protection from heavy impact, high traffic and load bearing while enduring all weather conditions.
Gym turf is another surface option that can be incorporated into your outdoor gym design.  Particularly good for pulling, pushing and sprinting, synthetic grass is a safe and easily maintained solution for Crossfit activities.
Durable Equipment
When investing in your Outdoor Cross fit equipment and accessories, think about choosing materials that will withstand outdoor use better than others.  Think about rust-resistant and UV protected pieces that are easily portable and stored.
Long-Term Maintenance
An outdoor gym should be created with long-term in mind.  That means thinking about all seasons, the main users of the space and how portable your design and equipment is.  With that in mind, it is good to consider equipment and storage options that align with your plans.
Versatility
Can your Crossfit gym space double up as a children's play area when not in use.  Maxmise your space as much as you can so that you and other members of your family can get the most out of it.  Think of how you will form your space and if you can save costs by creating zones, using multi-functional flooring and seating to accommodate different functions like fitness, play, dining or hobbies.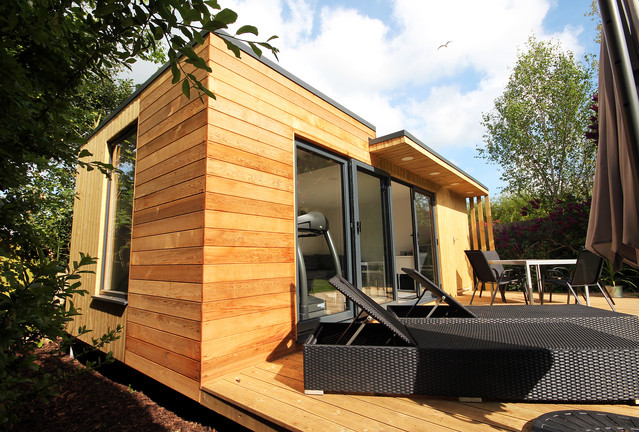 Final Thoughts
Taking fitness outside is a great idea if you can.  By considering the key components that make a Crossfit gym work and your specific environment, you can create a budget-friendly space that is safe, durable and will remain functional for years to come.
You may also be interested in:-
The Complete Sports Flooring Buying Guide