Tracking Your Way to the Top - How Gym Turf can Drive Results
Gym turf has become an increasingly popular feature in the modern fitness world. Adopted by sports facilities, training centres and home gyms as an alternative flooring surface to perform high impact activities, we look at the main uses of this exciting trend and how it can benefit private gym owners and fitness enthusiasts alike.
In this article find out:-
What is Gym Turf?
The Main Types of Gym Turf
Key Benefits of Using Gym Turf
Quick Buying Guide 
What is Gym Turf?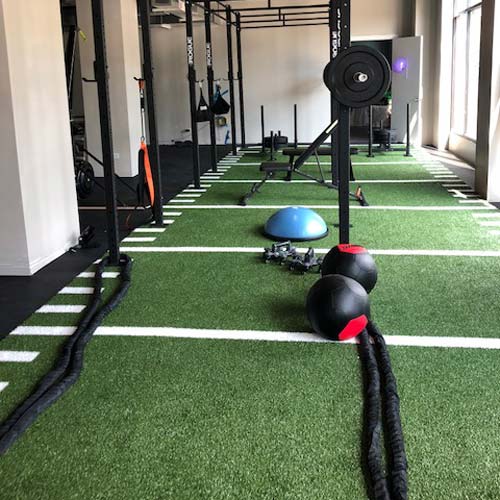 Gym turf is a high density synthetic grass which is made with short pile fibres and a sturdy latex undercarriage.  The tufted pile allows for high impact activities and various field sports to be performed indoors and outdoors without the need for regular maintenance.
It typically comes in bold strong colour options aswell as markings such as numbers, track lines for sprinting and bespoke patterns.  Synthetic turf comes in large rolls which can be used over an entire space or available in track format of varying sizes.
The material should be robust and provide protection and shock absorption when carrying out high impact exercises.  This prevents injury to users aswell as avoiding damage to the subfloor.
The Main Types of Gym Turf
Common uses of gym turf can vary from sprinting and sled-pulling to Crossfit and Functional Training.  The main types can be split into 4 categories:-
Standard Turf
This gym turf is plain and in standard colours such as Green, Blue and Red.  The product comes in rolls which is suited for areas such as indoor sports halls.  Artificial turf is also used in specific areas of a gym to create zones and to add colour into the design.
Tracks
Gym tracks are used for sprinting, sled-pulling, crossfit activities and functional training.  These rolls of sports turf tend to have markings already painted or tufted into the design.
Bespoke Turf
A popular way of incorporating a logo into your gym floor is by adding this into the sports track or selecting specific colours to represent a sports team.  Select programmes and training methods can be built into your turf or track so you have all the grid markings, numbers and features needed to perform your own personal training style.
3G Turf
3G Turf is synthetic grass used for team games such as Football, Hockey, Rugby etc and is mainly installed outdoors.  It is a high grade solution which uses sand, rubber and artificial grass to produce strong, durable playing surfaces.  These come in different styles of turf pile such as Profoot, Crosscourt and Clubcourt and vary in roll sizes.  It can be more expensive than other turfs because it needs to be weather resistant and strong enough to withstand high level sports while supporting performance.
Key Benefits of Using Gym Turf
Incorporating a sports track or a dedicated area for Crossfit for example, can optimise the user's experience aswell as providing significant commercial benefits to a gym owner.
Here are just some of the plus-points:-
Maximises Space
Gym turf can maximise a space's potential to accommodate a number of functions while remaining fairly low-maintenance.  Many exercise and workout types can be grouped together instead of creating separated zones saving on space.
High Versatility
A huge draw in utilising sports turf in a gym facility or sports centre is the flexibility of use.  This type of surface can be used for various sports as well as contemporary gym functions and can also be used outdoors.
Cost-Effective and Low Maintenance
Investing in gym turf may have an initial cost, however the fact that there is very little maintenance, this saves costs in the long-term.  Unlike natural grass, you don't need to water and cut synthetic turf on a regular basis and the space is ready for use straightaway without the need for preparation.  After installation, activities and sports can be performed straightaway and if outdoors, will not effect the event as a result of adverse weather conditions.
Increases Motivation 
Having a dedicated space for workouts you love can boost motivation and commitment to fitness.  Likewise, if a gym provides plenty of choice with an interesting and varied layout, users are more likely to return.
Brand Recognition & Reputation
By opting for brand colours or a logo in your sports turf feature you can promote your company and present a stronger brand image.  Similarly, if users enjoy their gym experience because of the wide range of activities you can grow your reputation within gym communities.
Strong Aesthetic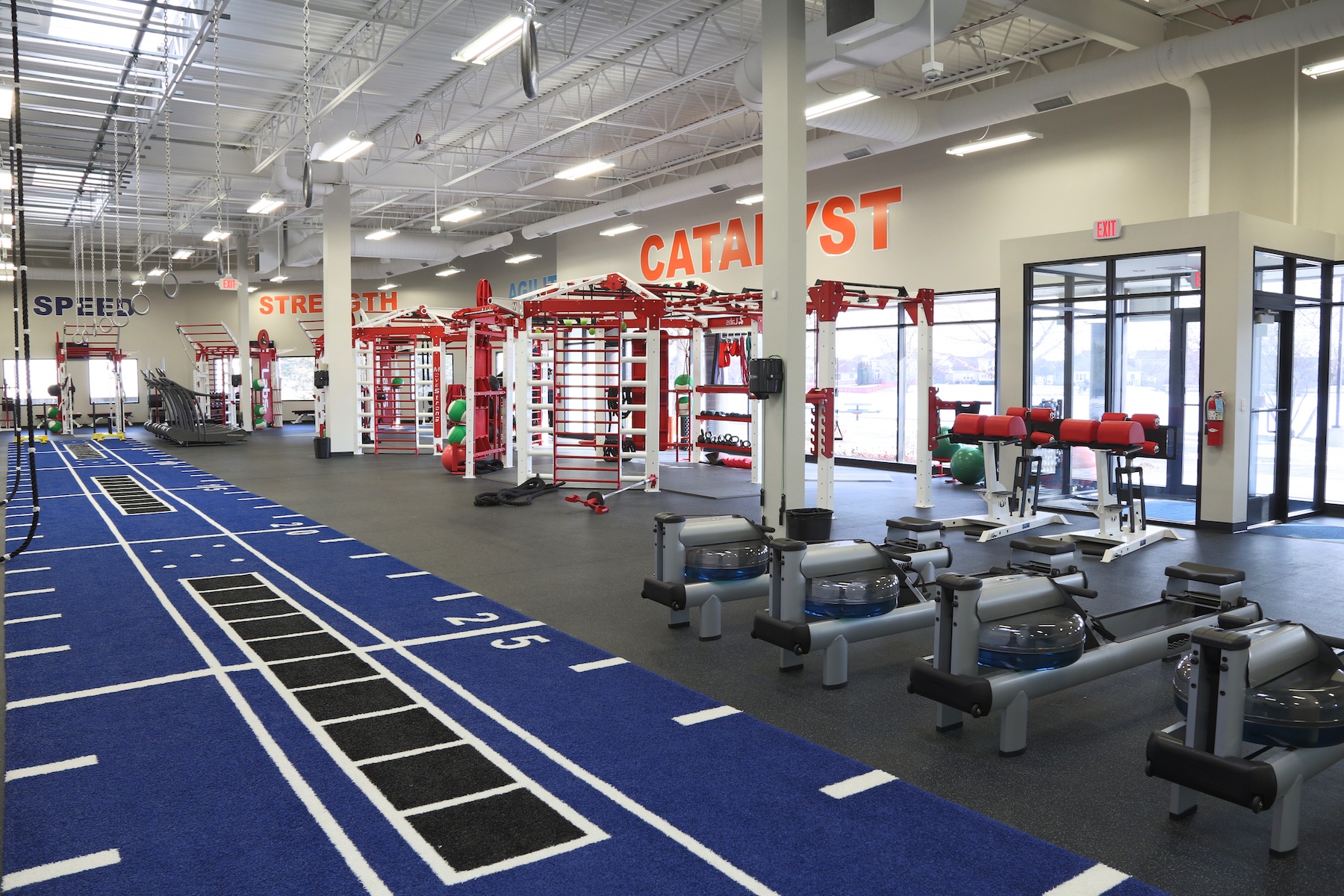 Not only does sports turf add more value to your space on a personal or commercial basis, it looks amazing!  Bold, energetic colours and different textures throughout the gym helps to create a defined, professional look with a positive and exciting ambience.
Quick Buying Guide
Choosing gym turf should be dependent on what type of activities you plan to use it for as well as considering the amount of space you have.
Commercial gyms should try to incorporate a fitness track solution such as Sprung Premium that allows for a variety of functions in one space and has all markings included.  Try selecting colours similar to your brand logo to give your space character.
Personal Training Studios should also consider selecting an option which amplifies the scale and level of use.  The Essential range which has standard markings caters for functional training, Crossfit, sprinting and sled-pulling.
Home gyms come in all shapes and sizes.  Smaller spaces can still benefit from using sports turf to create specific zones or tracks that facilitate home style training.  You would be surprised as to what you can fit into a Garage gym and adding a sled track for instance is not unrealistic. The Uni range is a plain track which you can use to your liking.  Gym markings can be painted/applied to the turf and comes in various sizes.
Conclusion